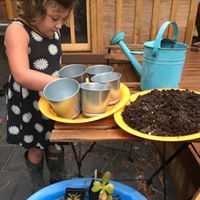 Forrest's Flowers ~ annuals and perennials
this little 7 year old has been growing flowers from seeds since she could walk...her marigolds are legendary. Come by the Farmers' Market early and get yours this spring!
When she's not playing in the garden...this little Forrest fairy is creating aromatic wonderlands out of bath bombs ~ get em' while you can!